POP HUB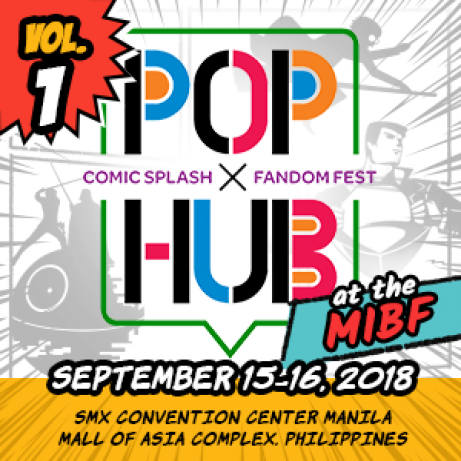 Welcome to POP HUB: Comic Splash X Fandom Fest Vol. 1!
Last September 16-17, 2017, the first staging of Fandom Fest at MIBF was presented by the Organizer of the Manila International Book Fair (MIBF), Primetrade Asia, Incorporated.
Fandom Fest at MIBF promotes western and pinoy geek culture through education, exhibition and entertainment. The event is supported by various fan groups in the country; fosters camaraderie and provides a venue for the exchange of interests and knowledge among fan groups.
Now on the the 39th staging of MIBF, following the success of Fandom Fest at MIBF, Primetrade Asia, Inc. is proud to present a bigger and bolder co-located event: POP HUB: Comic Splash X Fandom Fest Vol. 1. This festival is not only for fandom groups but also for the whole comic and pop culture community. Renowned comic book creators, artists, writers, directors, editors, animators, illustrators, dealers, collectors, publishers, members of the academe, comic fans and other enthusiasts will be gathered in this event. The festival will feature pop culture, arts and entertainment.
For more updates, follow POP HUB's official social media pages @pophubMNL.
Facebook: (https://www.facebook.com/pophubMNL/)
Twitter: (https://twitter.com/pophubMNL)
Instagram: (https://www.instagram.com/pophubMNL/)
Buy Now!
Convention

| | |
| --- | --- |
| | |